Setting sail for a rewarding career in Cruise-Ship Management"
A career in cruise ship management can be an exciting and rewarding opportunity for individuals who have a passion for travel and hospitality. Cruise ship management involves overseeing the operations and logistics of a cruise ship, including guest services, food and beverage, housekeeping, entertainment, and more.
To pursue a career in cruise ship management, you will typically need a degree or diploma in hospitality, tourism, or a related field. Some cruise lines may also require experience in the hospitality or tourism industry, such as working in a hotel or restaurant.
In addition to educational and work experience requirements, cruise ship management positions typically require excellent communication and interpersonal skills, as well as strong organizational and leadership abilities. You must be able to manage and motivate a diverse team of staff members, ensure guest satisfaction, and maintain a safe and enjoyable environment for passengers and crew.
If you are interested in pursuing a career in cruise ship management, you can start by researching cruise lines and job opportunities, networking with industry professionals, and gaining relevant education and work experience. With dedication and hard work, you can build a successful and fulfilling career in this exciting field
Jobs on Cruise Lines have become a more adventurous and enticing option, compared to their more traditional counterpart, for many who wish to pursue a career in hospitality. With the leading global Cruise Lines counting down the days to set sail again, as soon as the travel lockdown is lifted, the demand for Crew Members will be immense! That is why I am here to spill all of the secrets about the unique perks of working on a Cruise Ship.
No other industry has been growing so rapidly in the past ten years as the cruise ship industry.
Just for the last four years, all leading cruise lines have doubled their fleets and the number of officers, staff, and crew working on board their ships. Many new cruise ship companies have emerged trying to get their share of the cruise market expansion.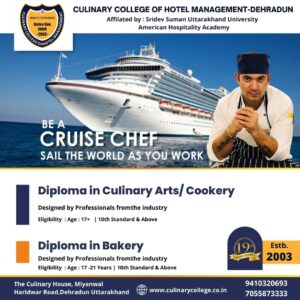 The Money
Obviously, this is the first question everyone has when looking for a job: How much can I earn? On cruise lines, the answer is A LOT! The pay on cruise ships is actually one of its best benefits. You might think you could be earning around the same amount in a similar job on land, but as all of your needs for your life at sea are catered to by the cruise line, there are next to no expenses for you. This means that all of your earnings go straight into your pocket; and did I mention, that this is all tax-free? This is a great way to build up some generous savings while getting paid to travel the world! 
The Benefits
The benefits that come with working on a cruise liner are some of the best across the board. 
Firstly, crew members are provided with free accommodation, meals, uniforms, and laundry service during their life onboard. This means, no rent, no utilities, and no bills!
In addition, they receive comprehensive medical insurance, and paid air travel to and from the port, in addition to other travel benefits and discounts, even for the family! 
Work contracts usually range from 6-8 months with a vacation period of 2-3 months at the end of each contract. Therefore, although you may be spending a long time at sea, you have a generous holiday and a guaranteed job afterward. 
Job security in the cruise industry is one of the best, as the industry prefers to renew job contracts of existing crew members, with many working for the same cruise line for even decades. There is also a great opportunity for career advancement through cross-training opportunities and contract renewals. Therefore, even though you may start at the bottom, you can quite quickly work your way upwards in the ranks, and improve your position. 
The Amenities
Crew members have access to all of the amenities on the ship in their free time, or when the ship is in port. This includes the pool, spa, gym, and other activities, which means that you can pursue your hobbies and exercise in your free time. In addition, crew members also have access to 'crew only' areas, such as private dining halls and lounges. There are also fun activities organized such as excursions, movie nights, live shows, and bingo games! 
The Travel 
I don't think a better way exists to travel and see so much of the world than by working on a cruise ship. Nowadays cruise liners have ports in pretty much every major location in the world, not to mention the more remote paradise islands which are impossible to reach by plane! On just one cruise contract you can soak up the sun on the Caribbean islands, wander the cobble-stoned streets in the Mediterranean, immerse yourself in the culture and heritage of North Africa, and stroll down Copacabana in Brazil. You will go to sleep in one city, and wake up in another, all while being paid to do so.  
While the ship is in port, you are encouraged to disembark and explore the amazing sites that are on offer. Cruise lines offer a variety of different route options for their cruises, so you can make sure to have the chance to explore all that the world has to offer! 
Not only do you have the chance to travel, and explore, but traveling is known to help you grow both personally and professionally. Experiencing new and different places helps you become more open-minded and understanding, which are great life skills to take you further in any future career.
The People
Last, but definitely not least, the people you will meet during your travels are one of the biggest perks of cruise life. Not only is the clientele aboard the ships diverse and international but so are the crew and your colleagues. The crew aboard cruise ships are known to come from diverse countries and cultures, so you are bound to meet new and interesting people, and maybe even brush up on your language skills! Many crew members build friendships and relationships for a lifetime from their time onboard. 
You will have the chance to develop your communication, teamwork, and leadership skills in an unprecedented way, in an amazingly diverse and multicultural environment. 
Now the secrets are out, and you know exactly how great life on the decks can be! The cruising lifestyle is definitely a unique and exciting one, full of amazing experiences, new horizons, and lifelong friendships. If these benefits sound irresistible, and you would like to find out how to get a job on a cruise ship contact us here to set sail towards your new adventure!!
Duration of Cruise Ship Management
The duration of a career in cruise ship management can vary depending on a number of factors, including the individual's goals and preferences, their level of education and experience, and the specific positions and roles they pursue within the industry.
Some individuals may start out in entry-level positions such as guest services or food and beverage, and work their way up over several years to more senior management roles. Others may pursue advanced education or training to specialize in areas such as operations, marketing, or finance, which can also lead to higher-level positions and longer-term careers in cruise ship management.
In general, a career in cruise ship management can be a long-term option for individuals who are passionate about the industry and committed to ongoing learning and professional development. However, some individuals may also choose to transition to other careers or industries after several years in cruise ship management, depending on their personal and professional goals
Jobs after cruise ship management course as a chef.
After completing a cruise ship course, you may be qualified to work in various roles within the cruise ship industry. Some of the job options that may be available to you include:
Cruise Director
Entertainment Staff
Food and Beverage Manager
Guest Relations Manager
Housekeeping Manager
Human Resources Manager
Shore Excursion Manager
Spa Manager
Onboard Sales Manager
Safety Officer
These are just a few examples of the many positions available in cruise ship management. The specific roles available to you may depend on your experience, qualifications, and the cruise line you are applying to work for.
After completing a cruise ship management course as a chef
There are several job opportunities available in the food and hospitality industry. Here are some of the common jobs:
Executive Chef: As an executive chef, you will be responsible for managing the kitchen operations on the cruise ship, including menu planning, food preparation, and managing the kitchen staff.

Sous Chef: As a sous chef, you will assist the executive chef in managing the kitchen operations, including supervising the kitchen staff and ensuring that all dishes are prepared to high standards.

Pastry Chef: As a pastry chef, you will be responsible for creating and preparing desserts, pastries, and baked goods for the cruise ship's restaurants and cafes.

Line Cook: As a line cook, you will be responsible for preparing specific dishes on the menu, ensuring that they are cooked to the correct temperature and served in a timely manner.

Kitchen Supervisor: As a kitchen supervisor, you will be responsible for overseeing the kitchen staff and ensuring that all food is prepared and presented to high standards.

Food and Beverage Manager: As a food and beverage manager, you will be responsible for managing the cruise ship's restaurants and bars, ensuring that all guests have access to high-quality food and drinks.

Catering Manager: As a catering manager, you will be responsible for managing the catering operations on the cruise ship, including organizing events and functions.
These are just a few of the many job opportunities available after completing a cruise ship management course as a chef. The specific job you pursue will depend on your interests, skills, and experience.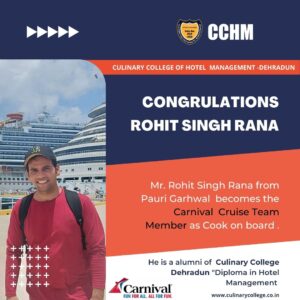 For More Information, you can contact. 
Culinary College of Hotel Management- Dehradun
Near Electric Sub Station, Haridwar Road, Miyanwala Dehradun (Uttarakhand)
Call: 9410320693, 7055873333