About the hotel & hospitality management program
Hotel management can be an exciting and rewarding career choice for those who have a passion for hospitality, customer service, and management. A career in hotel management involves overseeing the day-to-day operations of a hotel or resort, ensuring that guests have a pleasant and memorable experience. Here are some reasons why hotel management can be a great career choice:

Job opportunities: The hospitality industry is one of the largest and fastest-growing industries worldwide, offering a wide range of job opportunities in various sectors such as hotels, resorts, restaurants, cruise lines, and event management.
Global opportunities: The hospitality industry is global, and a career in hotel management can provide opportunities to work in different parts of the world, learn about different cultures, and develop language skills.
Diverse job roles: Hotel management offers diverse job roles, ranging from front office managers, food and beverage managers, housekeeping managers, sales and marketing managers, and human resource managers.
Opportunities for advancement: The hotel industry provides numerous opportunities for career advancement, including promotions to higher positions, moving to different departments, or managing a new property.
Skills development: Working in hotel management allows individuals to develop valuable skills such as leadership, communication, customer service, and problem-solving, which can be beneficial in other industries as well.
Personal satisfaction: A career in hotel management can provide personal satisfaction by providing guests with memorable experiences, creating a positive work environment for staff, and contributing to the overall success of the hotel or resort.
In summary, hotel management can be an excellent career choice for those who enjoy working in a dynamic and fast-paced environment, interacting with people from different backgrounds, and are passionate about providing exceptional customer service.
Duration of Hotel Management Courses
The duration of hotel management courses can vary depending on the level of the program and the academic institution offering it. Generally, hotel management courses can range from 1 year to 4 years.
Certificate or Diploma in Hotel Management: This course is usually for 1 year or less, and it covers the basics of hotel management, such as food and beverage service, housekeeping, front office operations, and customer service.
Bachelor's Degree in Hotel Management: This program typically takes 3 to 4 years to complete and provides a comprehensive education in hotel management, including core subjects such as accounting, marketing, human resources, and operations management.
Master's Degree in Hotel Management: This program can take 1 to 2 years to complete and is designed for students who want to specialize in a particular area of hotel management or advance their career to higher positions.
It's essential to note that the duration of the hotel management courses can vary based on the country, academic institution, and course curriculum. Therefore, it's essential to check with the specific institution for the exact duration and course requirements.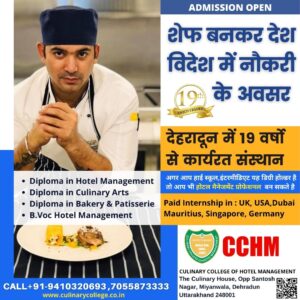 Culinary College of Hotel Management-Dehradun
Address: Near Electric Sub Station,  Miyawala Chowk, Haridwar Road, Dehradun, Uttarakhand 248001
Ph: +91- 9410320693,  7055873333
email: culinaryddn@gmail.com
FB: Facebook.com/culinaryddn
Web: https://culinarycollege.co.in/