BEST BAKERY COURSE IN UTTARAKHAND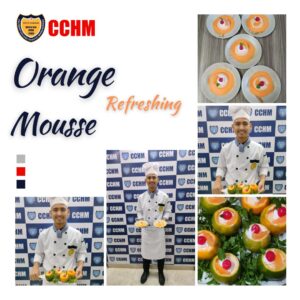 A bakery course is a training program that provides students with the knowledge and skills necessary to work in the baking and pastry industry. The course covers a variety of topics such as mixing and shaping dough, baking bread and pastries, decorating cakes and pastries, and managing a bakery business.
There are different types of bakery courses available, ranging from short-term certificate programs to more extensive diploma courses that may take several months or even years to complete. Some courses are offered by culinary schools or vocational schools, while others may be offered by community colleges or online learning platforms.
If you're interested in pursuing a bakery course, you may want to consider the following factors:
Bakery refers to the production and sale of baked goods such as bread, cakes, pastries, and cookies. A bakery can be a small local shop, a large commercial chain, or a home-based business.
Baking involves a variety of techniques, including mixing, shaping, proofing, and baking, and requires specific equipment like ovens, mixers, and scales. Bakers use a variety of ingredients, including flour, sugar, eggs, yeast, and butter, to create a wide range of baked goods with different flavors and textures.
Bakery products are a staple in many cultures and are consumed as a part of daily life. They are also commonly served in celebrations, such as weddings, birthdays, and religious festivals. Some bakeries also specialize in customized cakes and pastries for special occasions.
Bakery businesses can be profitable if managed well, and many bakers take pride in creating unique and high-quality products. The bakery industry continues to evolve, with many bakeries now offering gluten-free, vegan, and organic options to cater to changing consumer preferences.
Career as a Baker…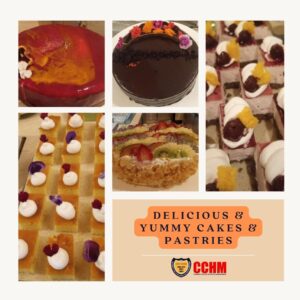 A career as a bakery chef can be exciting and rewarding, with opportunities to work in both national and international settings. Here are some steps you can take to pursue this career path:
Obtain a culinary degree: To become a bakery chef, you should consider obtaining a culinary degree from a reputable institution. This will provide you with a solid foundation in baking and pastry techniques, as well as food safety and sanitation.

Gain work experience: Once you have your degree, gain work experience by working in a bakery or pastry kitchen. This will allow you to hone your skills, learn new techniques, and develop your own signature style.

Consider specialization: You may want to specialize in a particular type of pastry, such as bread, cake, or pastry. This can help you to stand out and develop a reputation for excellence in your chosen area.

Network and build a portfolio: Attend culinary events, join professional organizations, and participate in competitions to network with other professionals and build a portfolio of your work.

Consider international opportunities: To work as a bakery chef in international settings, you may need to learn a second language and gain experience working with different cultural and culinary traditions. Look for opportunities to work abroad, whether through exchange programs, internships, or full-time employment.

Stay up-to-date with industry trends: The food industry is always evolving, so it's important to stay up-to-date with industry trends and developments. Attend workshops, read industry publications, and participate in online forums to stay informed.
By following these steps, you can build a successful career as a bakery chef, both nationally and internationally. Good luck!
Get trained: Enroll in a baking or pastry arts program at a culinary school or vocational institute. Many programs offer hands-on training in techniques like bread-making, cake decorating, and pastry arts.

Gain experience: Intern or work at a bakery or pastry shop to gain practical experience in a professional setting. This will allow you to apply the skills you've learned in school and gain insights into the industry.

Build your skills: Continuously practice and refine your skills, and seek out opportunities to learn new techniques and trends in the industry.

Start your own business: If you have an entrepreneurial spirit, consider starting your own bakery or pastry shop. This can be a challenging path, but it allows you to be your own boss and showcase your own unique style and creations.

Network and market yourself: Attend industry events, network with other professionals, and promote yourself and your creations on social media platforms to build your brand and expand your customer base.
Remember, a career as a baker requires hard work, dedication, and passion for the craft. With the right training, experience, and skills, you can build a successful and fulfilling career in a bakery.
There are various career paths that you can pursue within the bakery industry, including:
Baker: A baker is responsible for preparing and baking a variety of bread and pastry products such as bread, cakes, cookies, and pastries. Bakers work in bakeries, patisseries, supermarkets, and restaurants.

Pastry chef: A pastry chef is a specialized baker who focuses on the creation of sweet desserts and pastries. Pastry chefs work in bakeries, patisseries, and restaurants.

Cake decorator: A cake decorator is responsible for decorating cakes for various occasions such as weddings, birthdays, and other celebrations. Cake decorators can work in bakeries or run their own businesses.

Bakery manager: A bakery manager is responsible for managing the daily operations of a bakery, including overseeing staff, managing inventory, and ensuring that the bakery is profitable.

Entrepreneur: You can also start your own bakery business if you have the necessary skills, resources, and business acumen. Starting your own bakery can be challenging, but it can also be rewarding and fulfilling.

Research and development (R&D) chef: An R&D chef is responsible for developing new recipes, creating new products, and improving existing products for bakeries and other food businesses.
These are just a few of the many career paths that you can pursue within the bakery industry. Each career path requires different skills and qualifications, so it's important to research the specific requirements for each job and gain the necessary training and experience.